Produits pour ARDUINO
Autres produits > Cartes pour Arduino
Moteurs avec ou sans réducteur
Accessoires Arduino moteurs
- Plage d'alimentation : 1,5 à 4,5 V
- 3500 tr/min ( 0,08 A ) à 1,5 V constant
- 7000 tr/min ( 0,12 A ) à 3 V constant
- La vitesse de rotation peut être réduite de : 9, 27, 81, 243, 729 ou 2187 fois.
7.48 €
(TVA incl.)
14.95 €
Ajouter
Arduino modules dc-dc
Module 12V vers 5 et 3.3V
Description:
1. Entrée d'un canal: DC 6V - 12V (la tension d'entrée doit être supérieure à 1V ou plus.)
2. Triple sortie: 3.3V (erreur + - 0.05v), 5.0V (erreur + - 0.05v), 800mA (le courant de charge ne doit pas dépasser 800ma), 12V (entrée 12V directement à la sortie)
Ajouter
Arduino modules dc-dc
Module 5V vers 3.3V
Ajouter
A3C013
Nine-axis modules (three-axis gyroscope + triaxial accelerometer + three-axis magnetic field)
Immersion Gold PCB process
Chip: ITG3205 + ADXL345 + HMC5883L
Power supply :3-5v
Means of communication: IIC communication protocol (fully compatible with 3-5v system containing LLC circuit)
7.48 €
(TVA incl.)
14.95 €
Ajouter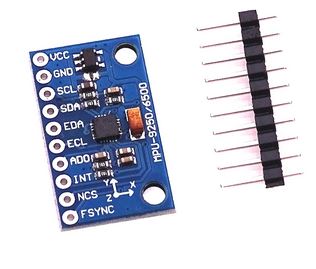 A3C013

Gyroscope range: ± 250 500 1000 2000 ° / S
Acceleration range: ± 2 ± 4 ± 8 ± 16g
Magnetic field range: ± 4800ut
Power supply: 3-5v (internal low voltage differential voltage stabilizing)
Communication mode: Standard IIC / SPI communication protocol (chip built-in 16 bit AD converter, 16 bit data output)
Pin spacing: 2.54mm
Product size: 15mm * 25MM, using gold plated PCB, machine welding process to ensure quality
Ajouter
A3C013
ADXL345 is a small, thin, low-power three-axis accelerometer can be high
Up to ± 16 g accelerometer with high resolution (13) measurements. Digital Outputs
According to a 16-bit twos complement format, can be accessed through the digital interface SPI (3-wire or 4-wire) or I2C.
ADXL345 is well suited for mobile device applications. It can tilt sensing applications
Measuring the static acceleration of gravity, it can also measure the dynamic add motion or shock caused
speed. Its high resolution (4 mg / LSB), capable of measuring about 0.25 ° of inclination
Angle change. Use ADXL345 digital output acceleration timing, etc., without the need for
Analog to digital conversion, reducing system cost and board space.
Ajouter
---
Claviers (contact switch, capacitif, I.R.)
A3C013
TTP224 4-way switch digital touch capacitive touch sensor module
4 key board TTP224 capacitive touch sensor IC
Onboard 4-level status indicator
Operating voltage: 2.4V-5.5V
Module can set the output mode, the key output mode, the longest time and fast output / low power options
Ajouter
A3C013
TTP224 8-way switch digital touch capacitive touch sensor module
8 key board TTP224 capacitive touch sensor IC
Onboard 8-level status indicator
Operating voltage: 2.4V-5.5V
Module can set the output mode, the key output mode, the longest time and fast output / low power options
7.48 €
(TVA incl.)
14.95 €
Ajouter
A3C013
LED three-stage touch dimming function:
At initial power-on, the light is off.
Each time the touch is touched, the brightness of the light changes in a cycle of low brightness -> medium brightness -> high brightness -> off
1. Input voltage: 3V-24v
2. Output voltage: 3V-24V
3.Induction principle: capacitive
4.Load power: 36W
5.Delay off time: none
6.Scope of application: DC, constant pressure
7.Load current: 3A
8.Standby current: 10mA VIN: 12V
9. Operating temperature: -20 Celcius~ 65 Celcius
10. Size: 35mm * 11mm

Ajouter
A3C013
Hand scan sensor module
Total power: 72W
Input voltage: 5V-24VDC
Induction distance: 30-80MM
Delay time: none (sweep and turn on/off)
Induction principle: infrared/distance
Use range: DC constant voltage
Load cable flow: resistive 3A
Standby current: 10-15mA
Size: 42*12*7.9MM
Ajouter
A3C013
Application
Meter pulse data sampling
Fax machines paper shredders detection
Obstacle detection
Black and white line detection

Product Description
TCRT5000 infrared reflective sensor
Detects the reflected distance: 1mm ~ 25mm Applicable
The working voltage: 5V
The output format: digital signal (0 and 1)
A fixed bolt hole for easy installation
Small PCB board size: 3.5cm x 1cm
A single weight: 4.5g

Wiring:
VCC: positive power supply (5V)
GND: negative one
OUT: high/low switch signal (digital signal 0 and 1)
Ajouter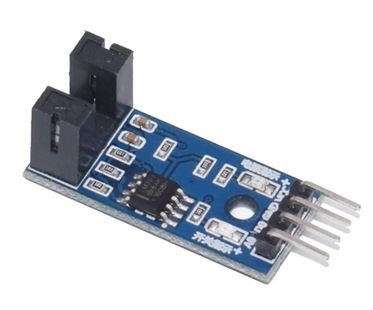 A3C013
IR Infrared Slotted Optical Speed Measuring Sensor Optocoupler Module For Motor Test PIC AVR ARDUINO
Ajouter